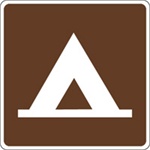 Ahh yes… the days of tent camping.  I can recall many a night where I would lay awake in my tent and watch the lightning through the moonroof on  my Woods two-room tent.  I loved the sound of the thunder and heavy rain hammering the nylon.  I think that was my favorite part of tent camping.
It's been a few years since we've been camping in a tent, but I still have my old checklist of things we needed to have on each camping trip.

The list includes the must-have items that I never landed at a campsite without.  In fact, I used to keep most of this stuff stored in totes and all kept together in my garage.  Whenever we wanted to camp, we would pretty much be ready to go after a quick review of the list and replenishment of any missing items.
I hope this list is as useful a tool for you as it was for me.
Tent (May seem obvious, but I've seen people get to the site without it!)
Sleeping bags
Cots or air mattress
Folding chairs
Small folding shovel
An axe or a hatchet
Firestarters or old newspaper
Small broom
Repair kit for your tent (Things like Duct tape, patches, glue, needle, thread…)
Nylon rope – at least 100 feet
Tarp
Battery operated lamp for inside use (LED is the best choice.)
Lantern for outdoor use
Flashlight, with batteries and spare bulbs (Again, LED is preferred.)
Swiss army knifes and/or multi-tool
Charcoal/propane BBQ or cooking stove
Extra propane tanks
Cooking pots and utensils
Plates and utensils (We prefer paper and plastic for ease of use, but that's not the most environmentally sound approach.)
Cooler/ice box
Matches and/or a lighter
Water container/carrier
Warm blanket
Warm clothes, swim-wear, rain gear, comfortable shoes
Personal items (Such as shampoo, conditioner, deodorant, razor, medications, etc…)
First aid kit (band-aids, antiseptic, alcohol, aspirin, gauze…)
Water purification tablets if there is a need (I keep some in my first aid kit.)
Insect repellent
Sun screen
Toilet paper (NEVER forget this!)
A laundry bag
Garbage bags
Aluminum foil
Plastic bags
Maps and/or GPS
FRS radios (They are great for keeping in touch with family and friends at the site.)
This list is pretty general, so I would recommend customizing your own list with whatever extra items you need.  If you think there is something missing from this list that everyone should have, let us know in the comments.