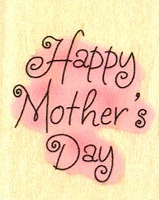 To all of the mothers out there, we would like to wish you a happy Mother's Day from all of us here at Practically Camping!  After all, family is what camping is all about.
If you are a mom, take the day to enjoy the things in life that make you happy.  Take a look at your children and realize that you brought them the gift of life.  You were there to watch them grow up.  First steps, first words, first band-aids, and first dates.
Without moms, none of us would be here and many of us wouldn't be who we are today.  So if you aren't a mom, take the time to appreciate yours.  There are many people out there whose mothers are no longer with them and they don't have the luxury of spending time with her or telling her how much they appreciate her.
Don't wait until it's too late to appreciate your mom too.  Today is the perfect opportunity to tell her you love her.