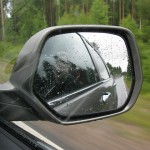 If you've ever taken the kids camping before, or even on an extended road trip, then you are likely familiar with the words "are we there yet?".  It has to be the most popular phrase ever uttered by children since the dawn of the automobile.
To a child, a five minute span can feel like an eternity – with each interval ending with those dreaded words.  To a parent, an hour long car ride could equate to a dozen or more chances to hear this phrase – and that is on a per child basis.
I've developed some strategies for dealing with the wee ones when we embark on a road trip adventure.
So, you've loaded up the family vehicle and begun your journey.  You make it to the city limits, a five minute trek, only to hear those words that are like kryptonite to Superman – "are we there yet?".  Now what?
Truthfully, I find that the best defense is a good offense in this case.  I like to be as prepared as possible and start with a preemptive strike.
Start by making sure that you have plenty of activities that your children enjoy doing packed along for the ride.  A word of caution though, make sure they are activities that can be done in the car.  I have a child that is prone to being car sick, so we have to make sure that any activities she has are not going to contribute to that.  Each kid is different, so you'll have to see what works for you.
::amazon("B0002VMSG6")::Here is a list of the activities that have worked for us:
Books for reading
Activity books, like connect-the-dots or mazes
Paper, pencils and markers in a sealed bag
A notepad for writing or doodling
Your child's favorite toys
Video games (Nintendo DS, Sony PSP, etc..)
CD/MP3 player and headphones or other music device
Your child's favorite CDs (or other music media)
Portable DVD player (even better if you have a built-in one)
A handful of DVDs (the same ones can get quite boring to rewatch)
12v Adapters for everything that needs power
Extra batteries for things that can't be plugged in
A few other items that are good to have, but not really activities are:
A first aid kit
Pillows and blankets
Hand wipes and tissues
It's also a good idea to have some food and beverages packed as well, especially if your road trip is going to be a couple of hours.  We usually pack:
Bottled water
Juice boxes
Sugar-free gum
Fresh vegetables or fruit
Snack Packs from the grocery store
Trail mix is often a winner as well
Beef jerky (that's usually for the parents, but if your kids like it, then it serves a dual purpose)
If none of that stuff is keeping your child amused, you can try:
Singing songs together
Reading a story aloud (not a good idea for the driver)
Starting a discussion on a fun topic
Bringing a surprise for each child, like a toy
Playing games like "I Spy"
Again, keep in mind that most kids don't enjoy extended car rides.  They can get stiff from sitting in the same position for extended periods of time and often need to use the restroom.  Make sure that you plan for enough stops along the way for them to stretch their legs and relieve themselves.
Explain to your kids ahead of time what to expect.  I like to give them the intricate details of the trip so that they can follow along.  For example, we mark down the time that we leave and the estimated arrival time at any stops, as well as the destination.  Then they can keep track as we travel and are less likely to ask.  It also builds their skills with telling time.
You can also give them a map, or the GPS.  With the map, they can make a game out of figuring out where they are.  With the GPS, they can see exactly what's going on.  It's also good to remind the kids to use their inside voices, as loud children can be quite a distraction for the driver.
If any problems do arise, try to remember that your kids may be acting out because they are uncomfortable or might just need a break.  Try not to over-react and get to the bottom of this issue so that it doesn't ruin the whole trip.
As a final tip, let your kids be as involved as possible in planning the trip and preparing for the ride.  Let them collect up their things to bring in the car, just make sure you double check it against your list.