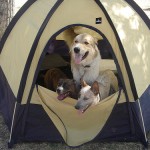 If you like camping, and you love dogs, then you probably bring your family pet along with you whenever you camp.  If you've never brought your four-legged pal with you, maybe it's time to give it a try!
Bringing your family pet along with you is a great way to complete the experience and really enjoy the time with your whole family – humans and animals alike.  You can also save some money by not needing to board them in a kennel.
Here is a list of stuff that you'll want to remember to bring along.
When camping with your dog, refer to this checklist to ensure that you pack the bare essentials that your everything you need.
Dog Food.  (Make sure you bring your pet's regular food along, changing up their diet can bring an onslaught of challenges.)
Extra drinking water and a portable container in case you want to take them out for a day trip.
Food and water dishes.  (I recommend the ones with food storage built in.)
Their pet bed or blanket to help them sleep through the night.
A couple of their favorite toys.  (I would also pack a frisbee, most dogs love frisbees!)
Leash and collar.  (Make sure that your dog's collar has a tag with your name and phone number on it.)
Long rope or chain and stake for tying them up,  while still leaving them room to roam.
An old towel.  (If they happen to swim or get rained on, you'll want to dry them off.)
Poop bags.  Don't laugh, you'd be surprised at how many people "forget" to clean up after their dog.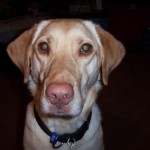 If you have everything on that list, then you'll be in a good position to ensure that Fido or Rover enjoys the trip as much as you do!
Sadly, my best friend was laid to rest before we had a chance to go camping together.  I'm sure she would have enjoyed it though.  She loved running outside and catching frisbees or tennis balls.
When we decide it's time to get another family dog, I'll be including them in all my camping adventures!
Whether it's in a tent, trailer, motorhome, or RV – there is always room for your best friend!
::amazon("B000634L3S")::  ::amazon("B000GDXHQ0")::  ::amazon("B0006ZFRQQ")::  ::amazon("B0002ARR7W")::
That cute photo at the top of the post was discovered on Flickr, here is a link to the author's page.