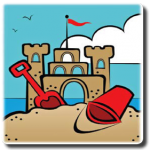 The sun is shining, the temperature is rising, and the only thing on your mind is grabbing the little ones and hitting the beach.  The refreshing sound of the water, the sand on your toes, and the hot sun warming your skin.
It's a win-win situation.  The kids love playing in the sand and water, and you get to work on your tan!
Read on to make sure that have all the necessities in your beach bag to keep your kids safe and healthy while enjoying the sand and surf.
You'd be surprised at the number of times I've gotten to the beach (or anywhere really), and realized that I had forgotten something.  This handy list will ensure that you are prepared for your beach adventure.
Sunscreen – for the little ones I would recommend an SPF of 50 or 60 with moisturizer built-in.
Sun hat – something bright and easy to spot.
Sun glasses with UVA and UVB protection – good luck keeping these on your child if they are anything like mine.
Lip Balm – to keep lips from drying out and chapping.
Bug bite soother – for when the insect troops are out in full force.
Beach blanket – for providing a cool resting place on the hot sand.
Bathing suit and towels – you'd be surprised how often the obvious is overlooked!
Sand and water toys – shovels, buckets, boats, water wings, floaties, etc.
Plenty of drinking water and juices – it's easy to get dehydrated in the hot sun.
Snacks – if you are planning to be there for an extended period of time.
Container with lid – kids love to collect sea glass, shells, stones, and other beach finds.
Hand sanitizer or anti-bacterial wipes – beach bathrooms aren't always the cleanest.
You can easily pack most of this gear in a tote bag or small backpack for easy transportation to and from your favorite beach.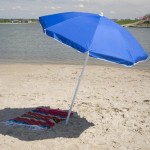 Another great item that some people find quite helpful is a beach umbrella.  It can keep the sun off your children by providing a shady area to play or relax.
It can also double as a rain umbrella, for when nature has an untimely call. (Not so great in a torrential downpour!)
I'm sure there are a ton of other great items that you can bring to the beach, but this list is primarily the necessities.
If you have any items in mind that didn't make this list, feel free to let us know in the comments.
::amazon("B000W0ASN2"):: ::amazon("B000SKBVOQ"):: ::amazon("B002K8PC30"):: ::amazon("B002LQCOWS")::