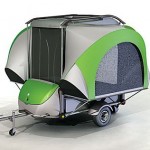 The other day, my wife sent me a link to check out.  As the page loaded, I couldn't believe what I was looking at.  It was a very intriguing product from SylvanSport and I am fairly certain that it is the most compact pop-up camping trailer that i have ever seen.
It's called the SylvanSport GO and it can be referred to as a "backpack on wheels".
Compact, lightweight, and versatile – it is the minimalist camper's dream come true!
Let me tell you more about it and how you can even win one of your own.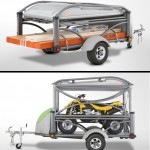 This state-of-the-art pop-up is described as "the most unique camping and travel trailer you'll ever find. The GO was designed from the frame out to be a one-of-a-kind mobile adventure trailer that's even more versatile than a Swiss Army knife. It's lightweight and easy to manage in the parking lot, garage or on the road."
It's also more than just a pop-up!  The GO doubles as a utility hauling trailer, which is perfect for you dirt bike, bicycles, or anything else you dream of throwing into it.  Plus, weighing in at a mere 800 lbs, the GO can be pulled by even the smallest cars.
The standard issue color is green, but for the hunters in the crowd, the GO is also available in camo.
I've never seen anything like it before.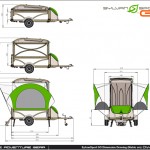 The GO features:
Insulated bed platforms for snug sleeping
Stargazing windows
King size and a half of sleeping area
Convertible dining table/bed
Stabilizer jacks on all four corners
LED Lighting
Self lubricating hubs
Low profile design for minimum drag and super fuel efficiency
Multiple tie-down points
Reinforced diamond-plate flooring for heavy loads
Waterproof electrical system suitable for use as a small boat trailer
Lockable waterproof gear storage in front storage pod
Torsion suspension for smooth load control
and so much more…
At the SylvanSport store, you can accessorize your GO with:
Deck cushions
Auxiliary awnings
Tongue extension kit
Self inflating inner mattress
Bed/Table Panels
Sleeping bags and more…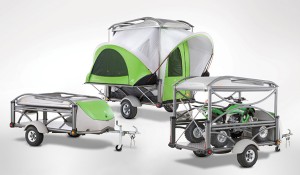 The GO will set you back about $6000USD.  Want to win your own GO?  Check out the Catch me… if you can contest!