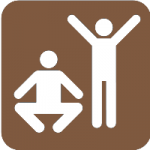 Here is another guest post from my wife, Amber.  She recognizes that many people toss their fitness routines right out of the window when they head out to the campground.

There are any number of reasons why this happens, but it's important to note that it doesn't have to.  You can keep up your exercising and still have a great time at camp.
Here's her list of ways to stay fit while roughing it.
For many people camping is about relaxing, but for some maintaining routine is important.   If you want to justify eating all those yummy smores, try out these simple ideas to maintain your fitness regimen and burn off those calories:
Hiking – Many campsites offer hiking trails  that are on or near the grounds.   You can usually scope this out online and in advance.  Remember to pack your good kicks!
Biking – Bring your bike along and enjoy the sights while getting a workout.  This one is something the whole family can enjoy!
Resistance training – Resistance bands are lightweight and easily portable.   You can likely find room for this activity inside your camper, if you are shy about your workout.  If you're not shy, there is plenty of space outdoors.
Use what you've got – Time to get creative.  Look around for everyday things that could be transformed into a workout aid.  Arm curls with soup cans works anywhere and hauling/chopping firewood is great exercise as well.
No equipment – If you don't want to get creative, you can jump into the frugal exercise routine.  There are many things you can do on your own, anytime, anywhere and the best part is that they are no cost.   Your list could include push-ups, crunches, jumping jacks, etc.
Outdoor games – Break out your camping games and play some Frisbee, badminton, volleyball or maybe just toss a football around.   Most camping locations will have area(s) with lots of open space that's just right for these types of activities.
Swimming – Here is an often overlooked exercise that is fun and easy.  Whether you're in a pool, lake or river, swimming is often an option, and camper's favorite.
Boating – No, not in a powerboat!  Check to see if your campground offers row or paddle boats.  Take the kids out on the lake, they'll love it! (and you'll get a great workout!)
::amazon("B000BKXE20"):: ::amazon("B0007W2EQE"):: ::amazon("B001H1JJHG"):: ::amazon("B0028SSKYU")::
If you have any fitness tips of your own, let us know in the comments.