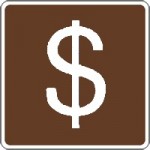 It's time for article three in the frugal camping series.  So far we've bought our firewood and we've made a list and checked it twice.  What else could we possibly do to bring down the cost of camping?
This next tip is all about big discounts to save you big bucks.
Tip 3 – Get in on travel memberships and loyalty rewards.
We've all heard of loyalty programs, like Air Miles, which are programs designed to reward you for spending money with a particular company.  The basic premise is that you buy something and you are rewarded with a small number of points.  Over an extended period of time, the points add up and are usually redeemable for products and services.  These are indeed a decent way to round up a few extra dollars, for simply buying the things you normally buy.
Once you have enough points, you can often trade them in on products and services, thus saving you the cash that you would have normally had to dish out.
Here's a list of loyalty cards worth having (and what you need to buy to collect their points):
Some of these programs may not be available in your area, check with your local stores.
Another really good way to get some great discounts while camping is to become a member of a travel membership program.  The two that are most well known in North America are:
It is important to note that, unlike loyalty programs, the travel membership programs do have an associated fee.  Make sure you weigh the cost of the card versus potential savings to be sure that it's the right choice for you.
If you're a member of these (or any of their local affiliate organizations), you'll enjoy such benefits as:
Discounts at participating retailers (like kmart.com, magellan, NAPA, and many more!)
Driving directions, maps, and destination planning
Visa cards, traveler's checks, and foreign currency exchange
Roadside Assistance
Camping Card International
The camping Card International is an identity card which provides access to organized campgrounds, controlled by clubs that belong to the AIT, FIA, and the FICC. It is valid for a total of 12 months from date of issue.
When making reservations or when arriving at a campground be sure to let them know that you have a travel membership to see if you qualify for any discounts.
Many campgrounds and retail stores also offer discounts for seniors.   If you or a traveling companion are considered senior citizens (generally starting at 50), be sure to let the retailer know so that you can take advantage of any discounts they may have.  It's also a good idea to register for an American Association of Retired Persons (AARP) membership card.
Get your membership and loyalty cards – and start saving today!
Check out the next tip in the series: Saving money on a full stomach