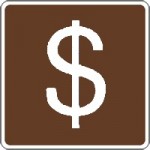 Here comes the fourth article in our series on saving money while camping.  It's been a busy week!  We've bought our firewood, we've made a list and checked it twice, and we've taken advantage of some great loyalty programs and travel memberships.
Today we're going to move on to a topic that we can't avoid because we need it to survive.  Can you guess what it is?
Food.  You gotta have it, so why not be as cost effective as possible
Tip 4 – Plan meals wisely to keep costs at a minimum.
I think one of the golden rules to saving money on food while you have the family out on a camping adventure is to simply avoid dining out.  It's easy to slip into the too-lazy-to-cook mode, especially if you've spent the day out sightseeing.  Remember though, eating at a restaurant can be a costly adventure and that cost rises with the size of your family.
If you just can't avoid eating at a restaurant, try to stick to diners and smaller family establishments instead of large chain restaurants.  They will generally have a better value for your money and you won't be paying a premium for their brand.
You can also save some coin by looking for early bird and buffet specials or clipping coupons from the local newspapers.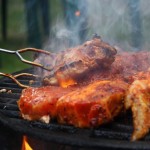 Now that we've got that out of the way, lets jump into the main topic – which is planning, planning, planning!  Careful planning means a number of things, such as:
Healthy, hearty meals on a budget
No need to run to the local store at premium prices
Ready to eat meals
Zero waste
That last point is an important one to me.  Plan for zero waste.  All that means is that you want to plan your meals and food consumption in such a way that you aren't over doing it.  At the end of your trip, you don't want to be throwing away any uneaten food.  That would be like throwing dollars into a dumpster.
Every trip is going to need a different plan and lots of factors will affect what goes into it.  Things like the number of campers, the number of days, the amount of cooler space, long term refrigeration, dietary needs, and so on will have to be taken into consideration when you are making your plan.
To get you started, here is a list of inexpensive foods that make a good base for your meal plans:
Hot dogs
Hamburgers
Baked potatoes (BBQ or campfire)
Corn on the cob
Salads (garden, potato, macaroni)
Rice or pasta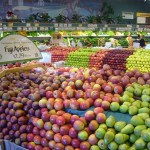 What trick I find really helpful is to do as much meal prep at home as possible.  This can reduce the amount of time you spend preparing meals at the camp site and increase your relaxation time.  More importantly though, this will help you spot any ingredients that you are missing so that you aren't buying them at the premium campground rates at the 11th hour.  Salads are especially good candidates for home prep.
While you're at it, make sure you have all of your standard cooking ingredients and condiments on the list.  We keep a second set of our standard spices in our trailer.  For us that means garlic powder, salt, pepper, paprika, celery salt and Montreal steak rub.  We also keep a stock supply of ketchup, mustard, relish and salad dressings.  I hate buying a bottle of ketchup for $6 at the campground.
::tip("Remember to check the expiry dates before you head out.")::
Expired products can cost you a trip to the store and a dent in your wallet!
While you're making your list, try to focus on maximizing non-perishables.  These are items that won't go bad during the trip.  Canned goods are a great way to cut down on spoil, as are dried meats like pepperettes and jerky.  You likely can't avoid having some perishables if you want to have tasty meals – just be sure to plan their consumption well so that they don't spoil.
Alright, you've gone to the store and you've got everything you need.  You've done all your prep work and now you are ready to pack it all up for the trip.  I can't stress this enough – pack it properly.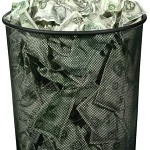 Make sure that you have enough ice in your cooler(s) to keep perishables cool for the entire time that you'll need them.  I've said it before and I'll say it again – spoiled food is like throwing your money into a dumpster.
Use big blocks of ice instead of the crushed ice that they sell at the store.  You can easily freeze water in old margarine or large yogurt containers.  This is a two-fold win.  The containers with lids will keep the water inside as the ice melts, keeping your cooler dry inside and you won't have to buy ice.  More money in your pocket!
The last tip for saving money on camping food is to pay careful attention to where you buy your food.  Some products, like spices, can be readily found in dollar stores at a fraction of the cost in regular supermarkets.  If you are cooking for the family, hit your local bulk discount stores such as Sams Club and Costco.
We buy our steaks in 4 packs from Costco and we save a bundle over what would pay at our local grocery store.
All of this is just food for thought, but when you add it all up it equals incredible savings.
Check out the next tip in the series: Cost effective entertainment