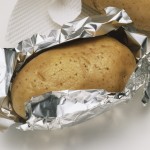 Back with another recipe – this time it's the ever popular baked potato.
The beauty of this recipe is that you don't need any special appliances or tools to cook it.  You can bake these potatoes right in your campfire.
Potatoes are great because they don't need to be refridgerated, which means you save valuable space in your cooler!  They are also a tasty and filling addition to just about any meal you can come up with.
Baking them in the campfire is just one more way to create a healthy and hearty family dinner.
With the simplicity of this recipe and the no mess preparation, you won't be spending as much time in the kitchen.  That means more time for you to relax and enjoy your trip!
Prep Time:
20 minutes (assuming 4 potatoes)
Cook Time:
10 minutes
Total Time:
40 minutes
Ingredients:

4 Potatoes
1 tsp of butter per potato
Sea salt
Fresh ground pepper
Garlic Seasoning

Instructions:

Slice each potato into thin slices.  (I like to do about 1/8th of an inch.)
Sprinkle on the salt, pepper and garlic, making sure to get in between the slices.
Lay the butter on top of the potato so that it will run down into the slices as it melts.
Wrap each potato up in it's own aluminum foil and lay in a decent bed of coals.
Rotate every couple of minutes.
Serve hot with sour cream.

Variations:

Add some onion in to tantalize the taste buds.
Sprinkle some grated cheese and bacon bits on top.
How do you like your baked potatoes?  Let us know in the comments.