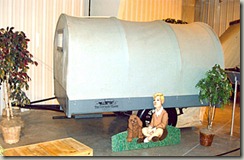 For all of the RVers out there, this year is an important year to note.  It's the centennial year of the RV industry.
It's astonishing that it's been 100 years since the first RV hit the road!
On Monday June 7 at the RV/MH Hall of Fame and Museum in Elkhart, Indiana, more than 1000 people gathered to celebrate the 100th anniversary of the RV industry.
While it's tough to place an exact pinpoint on the start of RVing, it's generally accepted that by 1910 the first homemade campers were being built on cars and trucks that were available at the time.
As the 1920s rolled on, manufacturers of campers and caravans were popping up all over the place.  Camping clubs were also becoming popular at the time.
According to RV historian David Woodworth, companies were building tent trailers by 1914 and travel trailers by 1918.
The progression of RVs over the past 100 years has been phenomenal.  It will be interesting to watch as the next 100 years starts to pass by.
In the meantime, check out some of these blasts from the past:
All images in this post are courtesy of the RV/MH Hall of Fame and Museum.