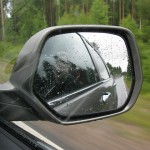 If you've ever taken the kids camping before, or even on an extended road trip, then you are likely familiar with the words "are we there yet?".  It has to be the most popular phrase ever uttered by children since the dawn of the automobile.
To a child, a five minute span can feel like an eternity – with each interval ending with those dreaded words.  To a parent, an hour long car ride could equate to a dozen or more chances to hear this phrase – and that is on a per child basis.
I've developed some strategies for dealing with the wee ones when we embark on a road trip adventure.