With National Parks Week just around the corner(April 16 – 24), everyone will be looking for ways to get into the outdoors spirit!
Why not snag yourself a cool new iPhone national park app from Chimani for free?  While their suite of national parks apps would normally set you back $5 – $10, they have decided to give them away free of charge for the duration of National Parks Week.
These apps are specifically designed to help you get the most out of your visit to any one of the following national parks:  Acadia National Park, Cape Cod National Seashore, Cuyahoga Valley National Park, Grand Canyon National Park and Yosemite National Park.
Each of the national park apps delivers constantly update content about a specific park, including:
ranger led activities
free shuttle bus schedules
news alerts
sunrise and sunset times
tide schedules (for coastal parks)
loding options
hike planner
and so much more!
Each of the apps offers a rich and impressive map interface that is gps enabled and displays all of the hiking trails in the park.  The maps come as part of the app package, so no wifi or cell service is required to use them.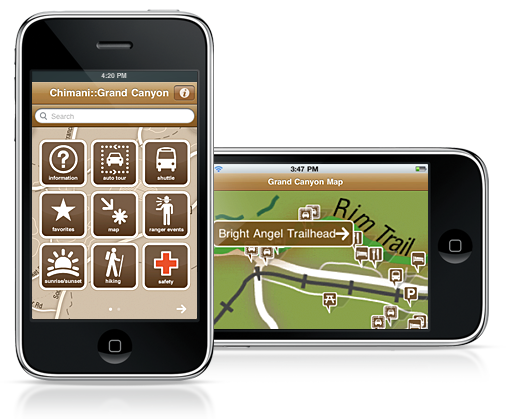 For the real park buffs, there is also an audio tour included with the app that is designed to be interactive as you drive, tour, or walk around the park.
For the Android users out there, Chimani will be offering the Android version of their apps for just $0.99!  Don't miss out on this incredible offers, here's where you can get them:
You can also read more about Chimani on their blog.