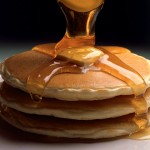 Pancakes have long been a staple at the breakfast table, both on and off site.  Some people like syrup on them, others prefer butter, and many more have their own ideas about how pancakes should be best eaten.
My kids, for example, love to load them up with chocolate sauce, sprinkles, frozen raspberries, and any other sweet tasting goodness that we have in stock.
This recipe isn't about dressing your pancakes though, it's about cooking a delicious banana taste right into the fluffy breakfast favorite.