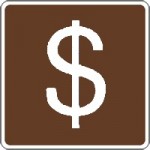 We've finally made it to article number five in this five part series on saving money while you camp!
Just to recap,  we've bought our firewood, we've made a list and checked it twice, we've taken advantage of some great loyalty programs and travel memberships, and we've taken a good look at saving money on our groceries.
I usually like to save the best for last and today is no exception.  The final topic in this series is all about entertainment.
Tip 5 – Plan for fun, but frugal entertainment.