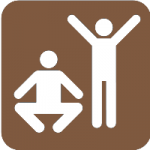 Here is another guest post from my wife, Amber.  She recognizes that many people toss their fitness routines right out of the window when they head out to the campground.

There are any number of reasons why this happens, but it's important to note that it doesn't have to.  You can keep up your exercising and still have a great time at camp.
Here's her list of ways to stay fit while roughing it.