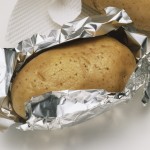 Back with another recipe – this time it's the ever popular baked potato.
The beauty of this recipe is that you don't need any special appliances or tools to cook it.  You can bake these potatoes right in your campfire.
Potatoes are great because they don't need to be refridgerated, which means you save valuable space in your cooler!  They are also a tasty and filling addition to just about any meal you can come up with.
Baking them in the campfire is just one more way to create a healthy and hearty family dinner.
Continue reading Recipe: Delicious Campfire Baked Potatoes →