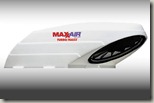 On my virtual travels around the interwebs today, I came across what may be the greatest RV vent upgrade that I have ever seen.
It's a weather resistant ultra vent with a built-in fan that even works in the rain.  How's that for kicking it up a notch.  It's called the TurboMaxx and it's made by MaxxAir.
This fan is a terrific way to improve the functionality of your ventilation system and it's incredibly easy to install.
Continue reading TurboMaxx RV Fan is the Ultimate Vent Upgrade →