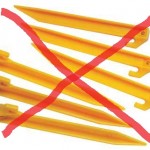 If you've ever camped in a tent, then you've probably been frustrated with traditional tent pegs.  Be it metal or plastic, they both have their challenges.
Trust me when I tell you that their is still hope.
A company called Liberty Mountain is distributing a tent peg that will revolutionize the tent camping world.  They call their product the Psyclone Tent Peg and I've never seen anything quite like it.
Let's take a look at what makes these tent pegs so special.