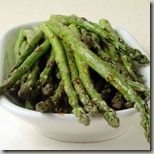 Are you a fan of asparagus?  I sure am!  As a kid, I don't recall ever being exposed to this tasty vegetable.  If I had been, I probably wouldn't have liked it.  It does tend to have an acquired taste.
As an adult, it took me a couple of tries before I really started enjoying the taste.  Now I can't get enough of it.
From a camping perspective, asparagus is a great addition to any dinner.  It's a hearty and healthy vegetable that is so easy to cook, well it almost cooks itself!