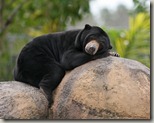 Camping and wilderness seem to go hand in hand.  It just doesn't have the same appeal when you think about camping in the parking lot at your local Wal-mart.
Enjoying the wilderness also means taking on the potential risks that come with it.  There are any number of dangers in the wild – from poison ivy to wild animals and everything in between.
Bears definitely fall into that category.  They are beautiful creatures to observe, but they deserve a great deal of respect and caution.  We're going to look at some tips for surviving a bear encounter while camping.