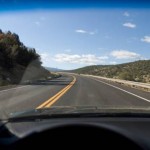 This is a guest post written by my wife, Amber.  Let me tell you, she has years of experience dealing with motion sickness.  Our youngest daughter gets sick on almost every extended car ride.  Here is what Amber had to say…
Depending on your camping destination, you may be faced with a lengthy drive (check out Great Ways to Combat "Are We There Yet?").  We have certainly had our fair share of them.  For us, this usually means dealing with the effects of motion sickness in one or more of the children.
Luckily, we have gathered some great advice over the years for handling just such a scenario.