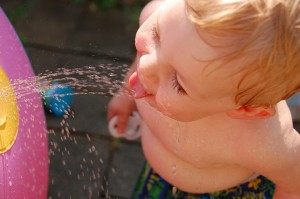 One thing that can really ruin a camping trip is an unbearable heat wave.  Besides the fact that extreme heat and humidity can leave you feeling sweaty and sticky, it can also make you quite ill.  Nobody wants to end up in the hospital while camping.
Even if you can avoid becoming ill, the kids might just drive you crazy as they complain about how hot it is.
The following list can help you steer clear of potential disaster.
These 11 tips will help you stay cool and help make your camping stay a pleasant one.  When the heat is on, you can try to:
Select a camp site that offers plenty of shade, especially in the afternoon when the sun is at it's highest point.
Wear light colors and light, breathable fabrics.  Try flowing cottons and linens.
Keep the air flowing.  Use fans in your tent or RV if you are at a powered site.  Use solar fans if you are camping off the grid.
Take a dip in the lake, river, stream, or campground pool (if they have one).
Bring an inflatable swimming pool with you.
Have a cold beverage.  Need to cool it more?  Try this trick!
Avoid alcohol and caffeine.  No, I'm not the fun police.  However, cold water will do a much better job at cooling you in a heat wave.
Slow down.  Burning calories makes you feel warmer, so sit down and only burn those calories while reaching for your drink.
Stick your feet out the end of your blankets.
Sleep in your birthday suit (not appropriate in all situations).
If your are lucky enough to have an RV with an air conditioner, then you didn't need to read this!  Turn it on!
Here are some product ideas to get you started:
::amazon("B002TMJR38")::  ::amazon("B003CT096Q")::  ::amazon("B000096R6W")::  ::amazon("B000G68GP4")::
As a word of caution, I wasn't joking when I said that the heat can make you quite sick.  Heat Stroke, for example, is a form of hyperthermia.  It can leave the victim feeling confused or hostile and even make them appear intoxicated.  Young children may have seizures and untreated heat stroke will eventually lead to organ failure.
Drinking plenty of water and resting in a cool place are the best self-treatment for heat stroke, but if the symptoms appear to be severe, seek medical attention immediately.
If you have some heat beating tips of your own, let us know in the comments!