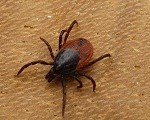 I wanted to take a moment to remind everyone about the dangers of ticks.  It's that time of year again where the flowers are starting to bloom and the trees are starting to bud.  When you are out enjoying nature, be mindful of your surroundings – especially in areas where ticks might be inhabiting.
This morning my wife took the dog for a walk down a wooded trail and about an hour after returning home, she discovered a tick crawling on her neck.  This evening, while sitting in the living room, I felt something on the back of my neck.  I reached back and touched what felt like a scab on my neck.  It was another tick!
That's enough reminder for me.  Check out this article on ticks to help you be better prepared.